House prices continue to rise in Montevideo,​ but demand is weakening
Post available in:
English
In Montevideo, Uruguay's capital, the average price of newly built houses rose by 9.1 % y-o-y to UYU 47,160 (US$ 1,334) per square metre (sq. m.) during 2018, according to the National Institute of Statistics (INE). However because of high inflation, real house prices only rose by a meagre 0.7 % last year.
In 2018, real estate transactions in Uruguay fell by 4 % to US$1.61 billion from a year earlier, based on figures from El Observador, in contrast to a 17.3 % sales growth last year.
This can be mainly attributed to the declining purchasing power of Uruguayans. The Uruguay peso (UYU) has weakened by almost 19 % against the US dollar, from an average monthly exchange rate of UYU 28.583 = USD 1 in January 2018 to UYU 35.124 = USD 1 in May 2019, stoking inflationary pressures.
By property type:

For single-family homes, the average price was UYU 41,072 (US$1,162) per sq. m. in 2018, up 7.3 % (-1 % inflation-adjusted) from a year ago
For duplexes, the average price was UYU 43,288 (US$1,224) per sq. m. in 2018, up 8 % (-0.3 % inflation-adjusted) from a year ago.
Data released by El Observador shows average house prices in Montevideo around US$ 2,700 per sq. m. in 2018 – about twice as much as government figures, not surprising given that El Observador's data is based on classified ads in Uruguay's main web portals.
Demand from foreign buyers remains weak. The real estate market in Uruguay, and particularly in its beach resorts, relies heavily on foreign buyers, around 75 % of whom have traditionally been Argentines, followed by Brazilians (with about 20 % share) while the remaining 5% were buyers from other countries. Some European retirees are also drawn to Montevideo, especially writers and artists. Argentina's economic crises always have a big impact in Uruguay.
Real estate transactions in Uruguay are typically quoted in dollars because of a history of fluctuations in the value of the Uruguayan peso.
Among the eighteen Montevideo neighborhoods included in the El Observador survey, Parque Rodó posted the biggest house price increases – around 13% during the year to December 2018.
It was followed by Palermo, La Blanqueada, Punta Carretas,Centro, Carrasco, and Ciudad Vieja, with house price rises ranging from 4% to 6%.
Areas with modest to minimal house price increases (between 0% to 3% during 2018) include Cordón, Punta Gorda, Tres Cruces, Pocitos, Malvin, Parque Batlle, and Union. House prices fell in Buceo (-8 %), Jacinto Vera (-6 %), Prado (-2 %) and Aguada(-2 %).
In Carrasco, Montevideo's most exclusive suburb, a typical 65 sq. m. residential property cost about US$ 230,000 in 2018.
In Punta Carretas, where the magnificent Rambla (seaside avenue) can be found, a similar sized unit has an average price of US$ 225,000.
In Punta Gorda, a beautifully restored historic district, a 65 sq. m. residential unit costs around US$ 220,000.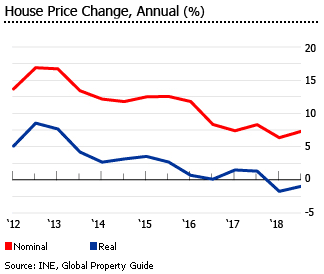 Uruguay's house prices are expected to continue rising – at least in nominal terms – during the remainder of the year, particularly in Montevideo, given that Uruguay's economy grew by 1.6 % in 2018, following expansions of 2.6 % in 2017, 1.7% in 2016 and 0.4 % in 2015, according to the Banco Central del Uruguay. The economy is projected to grow by 1.9 % this year before accelerating to 3 % in 2020, based on projections released by the International Monetary Fund (IMF).
Foreign buyers can buy both built properties and land in Uruguay. In November 2013, Congress prohibited ownership of productive land by corporations in which foreign countries are direct or indirect shareholders. But the bill does not affect individual foreign buyers, who can still purchase land.
Gross rental yields on Montevideo apartments are moderate to good
The typical gross rental yield in Montevideo – the return earned on the purchase price of a rental property, before taxation, vacancy costs, and other costs, – is moderate to good, at around 4.5 % to 6.5 %. Our research suggests that the typical yield has fallen over the past year. Yields are better on smaller houses and apartments, as is typical in most countries. Bear in mind that these yields are gross, i.e., before costs and taxes, and so realistically net rental returns would normally be a couple of percentage points lower.

Gross rental yields are an important consideration even for those who do not intend to become landlords, because a high rental yield indicates that the property market is reasonably priced.

Round trip transaction costs are high in Uruguay (i.e., the total costs of buying and selling a property). 
Income is now taxed in Uruguay
Rental Income: Net rental income from leasing property is taxed at 12%.

Individuals who obtain income derived from renting properties shall pay a monthly payment in advance of the abovementioned tax. The amount of withholding tax arises to 10.5 % of the total amount of income received each month. In case the only income obtained by individuals is derived from renting properties, advance payments can be considered as definitive tax payments. 

Capital Gains: Capital gains realized by individuals are taxed at 12 %. Taxable capital gains are the difference between the sales price and acquisition costs.

Inheritance: There are no inheritance or gift taxes in Uruguay.

Residents: Resident individuals pay tax on their Uruguayan-sourced income. Labour or earned income is taxed at progressive rates, from 0 % up to 30 %, while income from capital and capital gains are taxed at 12 %.
Total transaction costs are moderate in Uruguay
The total roundtrip transaction cost, i.e. the cost of buying and selling a property, is 14 % This includes the real estate agent's fee of 6%, which is paid equally by both buyer and seller.

Property registration takes about 66 days, and involves eight separate procedures.
Freedom to contract, limited rent control in Uruguay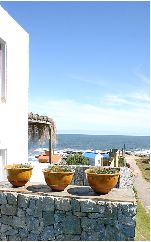 Uruguay's landlord and tenant law is pro-landlord.

Rents: Rents can be freely agreed between landlord and tenant, except for properties constructed before June 2, 1968.

In the free sector rent increases may be freely mutually agreed between landlord and tenant.

For rent-controlled properties, rent increases are indexed to the Unidad reajustable de alquileres URA or (Re-adjustable Unit for rent), published by the government.

Tenant Security: The duration of a rental contract can be freely agreed. The court system works adequately to enforce evictions and lease agreements, but is quite slow.
Economic slowdown
Uruguay's economy grew by 1.6% in 2018, following expansions of 2.6% in 2017, 1.7% in 2016 and 0.4% in 2015, mainly driven by growth in telecommunications, according to the Banco Central del Uruguay.
Foreign trade registered a decline in both exports and imports, down by 4.8% and 2%, respectively.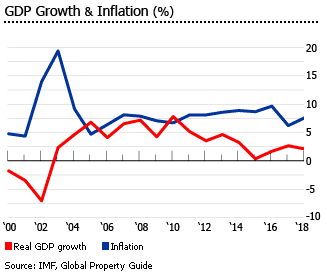 The country registered strong economic growth averaging 5.3 % annually from 2004 to 2014, before slowing to 0.4 % in 2015, as commodity prices slumped and Uruguay's trade partners slowed.
Uruguay's economy is expected to grow by 1.9 % this year before accelerating to 3% in 2020, based on IMF projections.
In May 2019, credit rating agency Standard and Poor's maintained its rating on Uruguay at BBB. Accordingly, no abrupt changes are expected in the country's policy making, given the current electoral context and the upcoming change in administration.
Uruguay is tagged as a "moderately free" and the world's 40th freest economy in Heritage.org's 2019 Index of Economic Freedom, down by two notches from the previous year. It ranks 6th out of 32 South and Central American countries. But in reality, the government's continuing influence over economic activity hinders overall economic growth.
In May 2019, nationwide inflation stood at 7.73 %, outside the central bank's target of 3% to 7%, but down from the annual average of 8.7 % from 2011 to 2016, according to the IMF.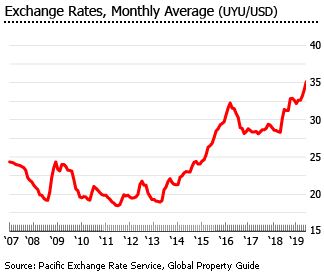 The government's fiscal deficit stood at around 3.9 % of GDP in 2018, and Uruguay's gross public debt widened to 68.3 % of GDP last year, up from 65.7 % of GDP in 2017 and 61.6 % of GDP in 2016, according to Coface.
Uruguay's unemployment rate was 8% in April 2019, slightly down from 8.1 % a year earlier, according to Instituto Nacional de Estadística. In 2018, nationwide jobless rate was at 8%, higher than the 7.4% from 2007 to 2017 but far lower than the average jobless rate of 14% from 2000 to 2006.
General elections will take place on October 27, 2019.
Source: Global Property Guide
(Visited 137 times, 1 visits today)
Established in 2006, Gateway to South America began as a single office in Buenos Aires. Since then, it has grown into a vibrant regional network, providing professional real estate marketing services to clients in Argentina, Brazil, Chile, Paraguay, Peru, and Uruguay. If you enjoy reading our news site, please share it on your social media!
Post available in:
English