Don't Cry for Argentina's Investors they are doing just fine
Post available in:
English
ARGENTINA POSITIVE OUTLOOK IS GAINING TRACTION WITH INVESTORS
In the four months since former Buenos Aires Mayor Mauricio Macri was elected president, Argentina has become a lodestone for global investors. They're anticipating the biggest spurt of growth in Latin America, a corresponding retreat of inflation and the best returns from the continent's healthiest companies.
Markets often bestow a halo on new governments that fades when promises can't be kept. Investors in Argentina are too familiar with disappointment to declare that this time is different.
Yet maybe it really is. Macri is the first elected president in 100 years who isn't connected to either the party of Juan Peron or the radical alternatives historically preventing Argentina from growing into a sustainable developed economy.
Relegated in recent years to the highest-risk category with such countries as Morocco, Kenya and Romania, Argentina has the potential to leapfrog its market peers. Many of its companies are already globally competitive and will become more so as the government abandons its longstanding statism.
That's what Macri pledged to do when he ran for president in October and what he has been in a hurry to accomplish since he took office in December: Repudiate former President Cristina Fernandez de Kirchner's mix of currency, price and trade controls with easy credit; reduce the deficit by cutting energy subsidies by 1.5 percent and federal spending by 0.8 percent this year; stop funding the deficit through central bank transfers to the treasury, which amounted to 78 billion pesos ($5.8 billion) last year.
Sure enough, the new government eliminated currency controls and most export tariffs on agricultural products, for example lowering duties on soy exports by 5 percentage points to 30 percent. The government devalued the peso almost 30 percent against the dollar by allowing it to float, and permitted unfettered access to the foreign exchange market for the first time in four years.
Already Macri's political labor is bearing fruit. The total return on Argentina's debt since the November election surged to 7.5 percent, compared to 3.5 percent for a basket of emerging market debt; a 2-to-1 ratio had prevailed in the 10 years prior to the election. The volatility, or risk of reversal associated with Argentine debt, plummeted to 2.3 times the emerging markets the past five months from 4.4 times in the previous decade, according to data compiled by Bloomberg.
Borrowing Costs Are Returning to Normal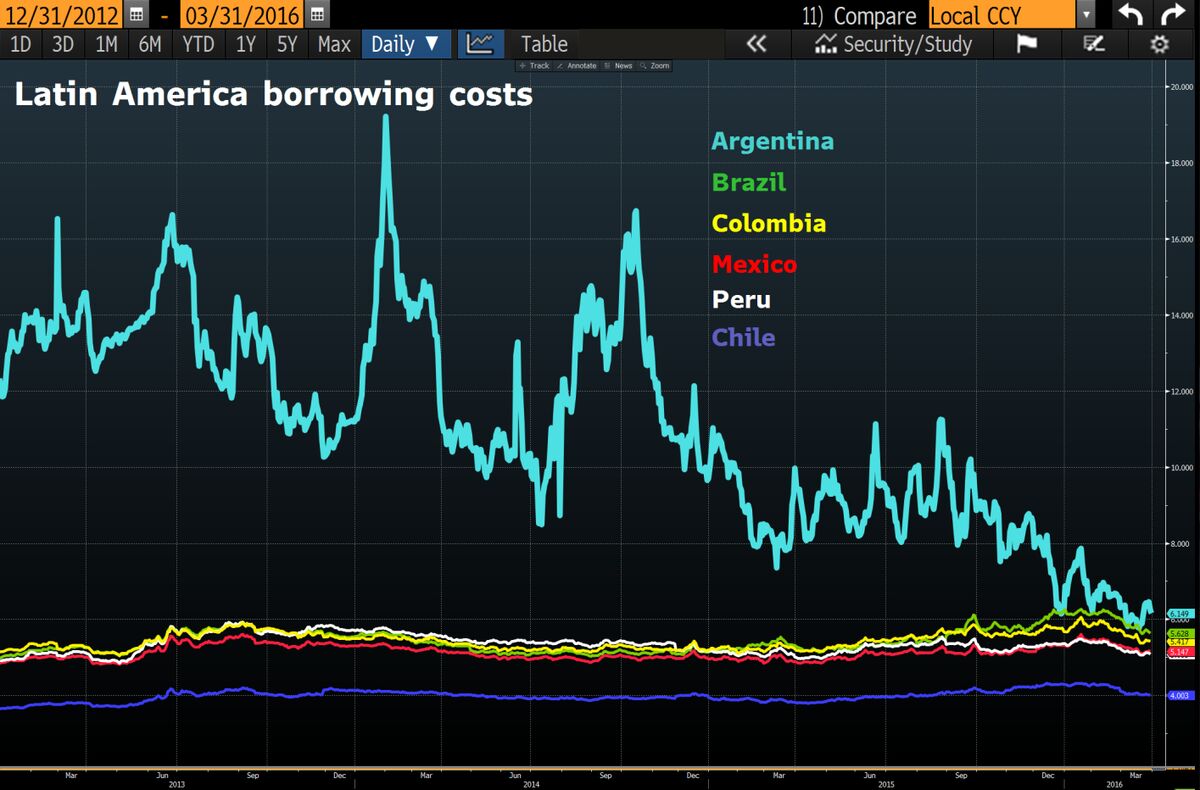 The perception of Argentina's creditworthiness, meanwhile, is improving. The country's borrowing cost declined about 3 percentage points since the election from its 2014 high to a little more than 6 percent, the lowest at least since the government restructured its debt in 2010. That brought the difference between Argentina's borrowing cost and Chile's to just 2 percentage points from the high of 15 percent two years ago, according to Bloomberg data.
One Peso, Two Values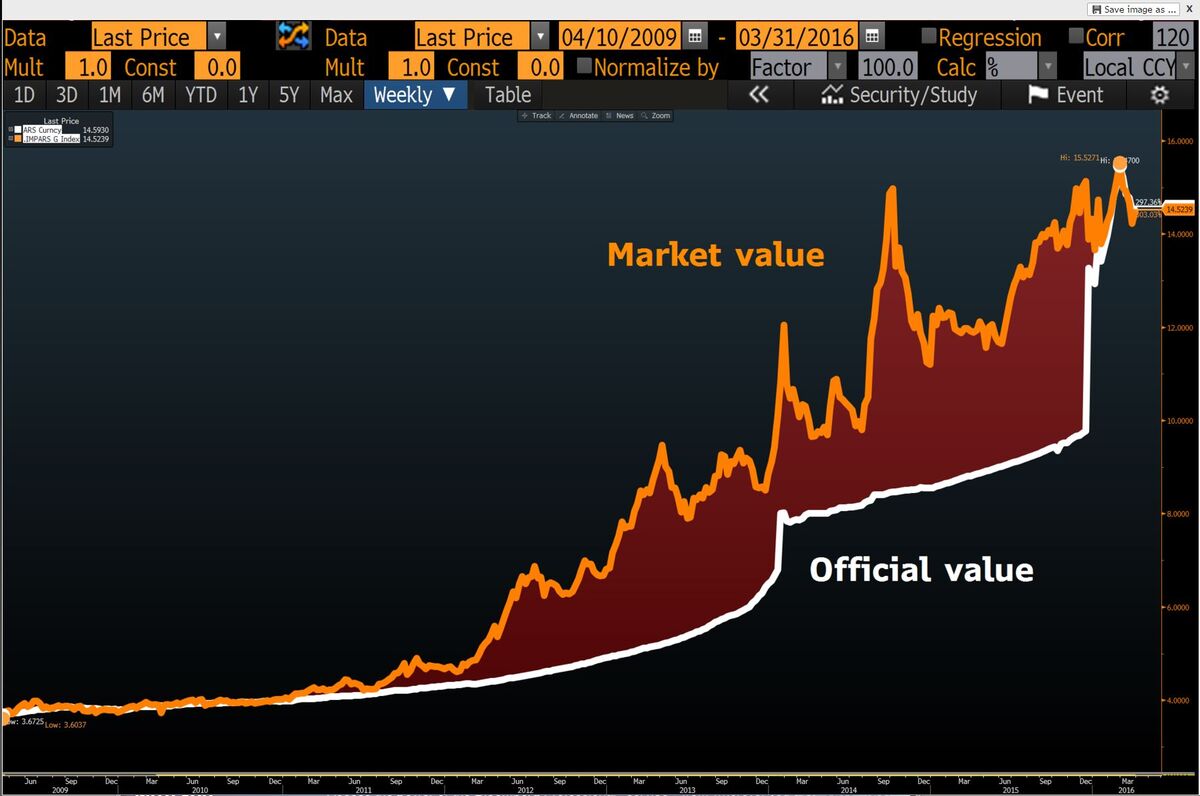 For the first time in five years, there is enough confidence in the government's commitment to free markets to shrink to insignificance the spread between the Argentine peso's value in the international marketplace and its official value, Bloomberg data shows. Until Macri took office, the quoted value of the peso had been inflated by foreign exchange controls.
That doesn't mean Argentina can be considered a safe haven, as the peso remains among the most volatile currencies along with the Brazilian real, Russian ruble and South African rand.
Investors may gain the most from Macri's economics in the stock market, where 45 companies with a market capitalization greater than $100 million have lower debt-to-asset ratios and bigger profit margins, and return more money to their shareholders, than comparable firms based in Brazil, Chile, Colombia, Mexico or Peru. The margin of revenues converted to earnings before interest, taxes, depreciation and amortization in Argentina outperforms even the Standard & Poor's 500 Index in the U.S.
Stronger Companies

For all of their comparative strengths, Argentina's companies still are considered the most susceptible to a stock-market reversal as measured by their volatility. While the threat of sudden price fluctuations remains, global investors increasingly are confident that Argentine companies will retain their value. Global X MSCI Argentina, the largest exchange-traded fund that invests in Argentine stocks, is attracting record funds this year, equivalent to 95 percent of its total assets, dwarfing the net inflows of 55 percent for Chile, 17 percent for Colombia, 13 percent for Brazil, 29 percent for Peru and 14 percent for Mexico.
The biggest catalyst for rising confidence in the stock and bond markets is the outlook for inflation, which Macri's government says will peak this year before receding in 2017. According to 13 economists surveyed by Bloomberg, the Consumer Price Index will decline to 19.7 percent next year from 34.2 percent in 2016.
The forecasts for a reversal of inflation coincide with an expectation of robust growth next year. While Argentina was a laggard among six major Latin American economies between 2012 and 2015, its gross domestic product is poised to increase at the fastest rate, with total output exceeded only by Peru and Colombia, according to data compiled by Bloomberg. For all its weakness as a pariah in the international capital markets, Argentina's debt-to-GDP ratio is among the lowest in the developed and developing worlds at 45.80 — less than those of Brazil, the U.S., Germany and Canada.
That helps explain why for the first time in at least decade, the cries of international investors over Argentina are turning to smiles.
By
Bloomberg
(Visited 119 times, 1 visits today)
Established in 2006, Gateway to South America began as a single office in Buenos Aires. Since then, it has grown into a vibrant regional network, providing professional real estate marketing services to clients in Argentina, Brazil, Chile, Paraguay, Peru, and Uruguay. If you enjoy reading our news site, please share it on your social media!
Post available in:
English