Chile to Tap Foreign Investors as Reputation Survives Protests
Post available in:
English
Chile's foreign reputation for sound fiscal management has survived the biggest social upheaval in a generation largely intact, market indicators show. The government says it now intends to cash in on that credibility.
The South American nation plans to issue $8.7 billion of bonds next year, of which $5.3 billion will be sold abroad, up from about $3 billion this year. Of those foreign bond sales, $3.3 billion will be in dollars and euros and the rest will be denominated in Chilean pesos but targeted at foreign institutional investors through a book building process.
Social unrest has gripped Chile since Oct. 18, forcing the closure of hundreds of shops and delaying investment projects. Still, the government is benefiting from years of fiscal prudence that saw it put more than $15 billion into sovereign wealth funds. It is now drawing on the funds to boost pensions, health-care and create a minimum income, as well as borrowing more abroad.
"Any other country that had gone through a shock like this one would have already been downgraded one or two notches," said Andres Perez, head of international finance at Chile's Finance Ministry. "Current yields and spreads show a higher level of risk, but not enough for a downgrade."

Chile's bond spreads have widened an average of five basis points since Oct. 18, only marginally worse than the average of three basis points for emerging-market sovereigns.
Institutional Investors
As Perez visited institutional investors in Asia and the U.S. in December to explain the social crisis and remind them of Chile's financial strengths, he was struck by the high expectations the country has created.
There's a consensus that Chile's fiscal and monetary response has been "effective, fast and decisive in terms of its size," Perez said in an interview in Santiago. "Then again, they say that this is what they expect of Chile."
The government will boost spending by 9.8% in real terms next year as it tries to meet social demands. The increased expenditure is likely to continue, pushing public debt to 38% of gross domestic product by 2024 from less than 28% now, according to the government.
Perez said investors had asked about the higher debt load as well as the drafting of a new constitution and what it will mean for investors. Chileans are scheduled to vote April 26 on whether to draft a new constitution.
Back to Normal
The boost in bond sales in foreign currency will only be temporary. In the following years, the government will return to its previous pattern of selling about 80% of bonds in local currency, Perez said.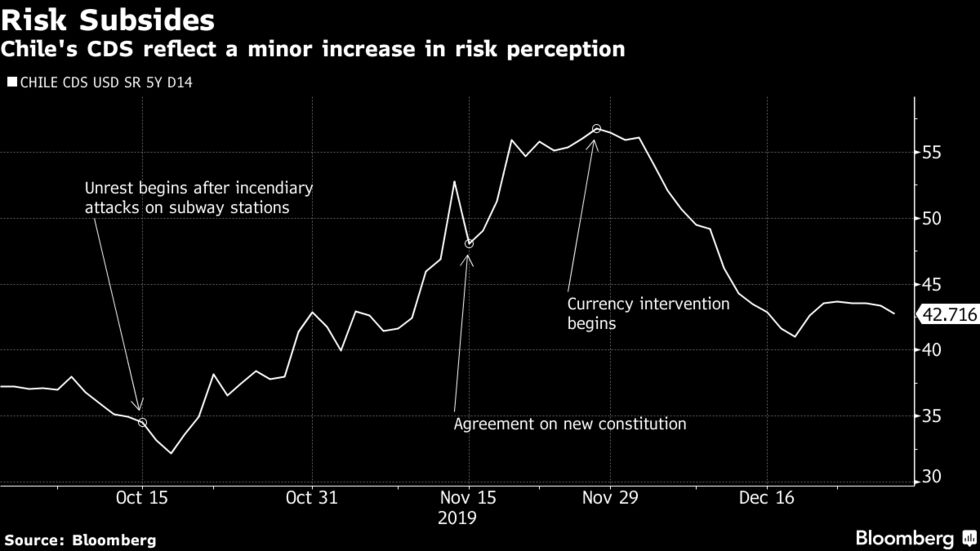 While the economy has taken a hit from the protests, with economic activity contracting 5.4% month-on-month in October, market confidence has been recovering. The peso has strengthened 11% since Nov. 28 when the central bank announced an intervention, the best performance of any emerging-market currency.
Even with the higher debt loads and more fiscal spending, Perez is confident that credit rating companies will be able to take the long term view.
"As soon as spreads started to rise new foreign institutional investors have entered the market thinking that Chile was cheap," Perez said. "This has helped to keep spreads low."
Source: Bloomberg
(Visited 55 times, 1 visits today)
Established in 2006, Gateway to South America began as a single office in Buenos Aires. Since then, it has grown into a vibrant regional network, providing professional real estate marketing services to clients in Argentina, Brazil, Chile, Paraguay, Peru, and Uruguay. If you enjoy reading our news site, please share it on your social media!
Post available in:
English