Billionaire Alejandro Bulgheroni Has New Wine Dreams for South America
Post available in:
English
The oil magnate and founder of one of Argentina's richest families sits down for an interview about his burgeoning wine empire and opens up about his dream to launch Patagonia's first ice wine.
It was twilight when Alejandro Pedro Bulgheroni first saw a 2,200-hectare property for sale in rural Garzón, just north of Uruguayan resort Punta del Este, where he has a beach house. The peaceful green hills reminded him of Tuscany. "The place had magic," he says. "I had to have it."
He bought it in 1999. "My wife was upset that almond trees on land her grandfather had given her were dying. So we planted them, plus olive trees for me," he says. He finally added vines in 2007—his first step in creating a wine empire that now includes 12 vineyards on four continents.
Bulgheroni is the first South American billionaire to build such a far-flung international wine business. He's done it in a remarkably short period of time, snapping up most of his estates since 2011 at the rate of two a year.

Slim and soft-spoken, wearing a dark blue, pinstriped, hand-tailored suit and red tie, he surprised me by revealing that he didn't drink wine when he started acquiring wineries. "I quit for 20 years when I married Bettina," he says. "She didn't like the smell of alcohol on my breath. Now," he adds, laughing, "I have to taste."
Most billionaires purchase a wine estate as an extension of their passion for imbibing the stuff. Usually, they favor a trophy property, like the French Bouygues brothers with Bordeaux's Château Montrose. Instead, Bulgheroni backed into the business.
A Global Wine Brand
In early March, he'll celebrate the official opening of his ultramodern Bodega Garzón, his most complete winery vision so far, with its open-fire restaurant and 500 acres of vines planted in 1,000 blocks. The $85 million project features a yet-to-come luxury hotel and a $180,000-entry-fee wine club where members can create their own wines.
Planting that vineyard whetted his appetite, he says, ticking off the names in his portfolio: In Argentina, Vistalba, Tomero, and Argento; in Tuscany, Dievole, Podere Brizio, Poggio Landi, and a Bolgheri vineyard; in Bordeaux, Château Suau; and in California's gold rush country, Renwood Winery, which specializes in Zinfandel. Last October he picked up organic estate Greenock Farm in Australia's Barossa Valley. His eponymous Napa Valley estate (Bulgheroni calls it "the flagship") opens in May.
He's also busy developing the world's southernmost vineyard in Patagonia (no name yet) and hunting "for a Tempranillo vineyard" in Spain.
Chile doesn't interest him, nor does China, which, he says, choosing his words carefully, "seems difficult."
None of these qualify as the kind of high-status estates most billionaires invest in. Almost all were startups or required significant renovation. "Chianti Classico estate Dievole," Bulgheroni explains, "was very run-down, and we had to change—and improve—the style of the wine."
The wine business can be financially risky, but that doesn't worry the courtly native Argentine, who's used to thinking big, and analytically. Trained as an engineer, he made billions with his brother through the family energy business, Bridas Corp.
Getting Started
So what makes a working billionaire take a plunge into a totally new business?
"I've been in ranching all my life," he says. "And wine and olives resemble the oil business. I like to explore new things, new places, new technology. They're about the future. In oil, what's happening today is something I thought about 10 years ago."
It turns out that as a kid he thought he'd like to grow grapes. His great-grandfather brought Italian settlers to his land in Argentina to grow grain, and they all grew vines and made rustic wines.
"But I didn't know anything about winemaking," admits Bulgheroni. In 2006, to decide whether Garzón had vine potential, he sought advice from Argentine vintner Carlos Pulenta, who introduced him to star Italian wine consultant Alberto Antonini.
Antonini pronounced the Uruguayan land ideal for Tannat and Albarino grapes and advised small experiments. Bulgheroni says, "I asked him, how old do you think I am? I can't wait. What if we plant 40 hectares a year for four years?"
He enlisted both to help him expand.
"I want to do things that will last beyond me," he says. "With wine I want to give people a place to work and have better lives."
That was the thinking behind his new vineyard in Patagonia, where he was involved in an oil project. To provide income for the wives of the oil workers, he started planting raspberries and cherries, then added vines "as a way to extend the local harvest period."
Tourism, Too
"I love Punta del Este," he went on. "Most tourists think of this area as a place to go in the summer. It needed more tourism possibilities so local people could have work for the rest of the year." That's partly where his belief that his wineries should be agro-tourism destinations came from.
Bodega Garzón is just one part of Agroland S.A., his 10,000-acre Uruguayan agriculture business that includes cattle ranching, award-winning extra virgin olive oil, honey, almonds, and pecans, and the first wind farms in Uruguay.
One of his key passions is sustainability and minimizing the impact his wineries have on the environment. "We have to pollute less," he says. He's proud Bodega Garzón has obtained LEED certification, and at established estates like Dievole, he's eliminating chemical pesticides and fertilizers.
Taste at Scale?
Bulgheroni is also a champion of innovative technology and up-to-date research, from vineyard weather stations to embracing new thinking on cement tanks for fermentation.
"I believe people should drink better wine—and if you can reduce the cost, you can overdeliver on quality," he says. So far, his wineries do.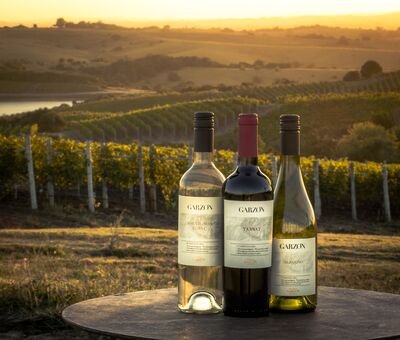 His first vintage of Dievole, 2013, has wonderful depth and a dark, spicy taste, for $22. Bodega Garzón's refreshing albarino and smooth-textured tannat cost less than $20. Bright, powerful 2013 Renwood Premier Old Vine Zinfandel is a stunner at $20; 2013 Vistalba Corte C Lujan de Cuyo ($18) is plush and earthy, while 2013 Tomero Torrontes is a steal at $14, as is the Argento Malbec Reserva at $18.
Now that he's drinking again, he has definite wine preferences.
"I like gentle, not aggressive wines. I like to feel the flavor of the grapes. I like acidity. At the end I prefer reds. I don't like bubbles, but I love sweet wines, and hope we can make true ice wine in Patagonia."
Source: Bloomberg
(Visited 858 times, 1 visits today)
Gateway to South America was established in 2006 as a single office in Buenos Aires. The company has since expanded into a vibrant regional network, servicing the Southern Cone clients in Argentina, Brazil, Chile, Paraguay, Peru and Uruguay with professional real estate marketing services. If you enjoy reading our news site please share it on your social media below.
Post available in:
English