5 Reasons Why You Should Invest in Paraguay
Post available in:
English
Many investors are unaware of the strong returns on offer when you invest in Paraguay — one of Latin America's most stable markets with a recent history of consistent growth.
That includes an almost five-fold increase in the gross domestic product (GDP) between 2002 and 2020 — even despite a recent minor decline exacerbated by the COVID-19 pandemic.
Speaking in September, Inter-American Development Bank (IDB) President Mauricio Claver-Carone labelled Paraguay one of the best countries in Latin America and the Caribbean for doing business.
"If I were a foreign company, one of my first destinations would be Paraguay, due to the current investment environment that is ideal for doing business," Claver-Carone was reported as saying during a meeting with Paraguayan President Mario Abdo Benítez.
According to Claver-Carone, that is partly why Paraguay was one of just five countries from the region to actually increase foreign direct investment during 2020.
5 reasons to invest in Paraguay
Companies and entrepreneurs should be looking to invest in Paraguay for the following five reasons:
1. A young and competitive workforce
Paraguay boasts one of the youngest workforces in the region, with an average age of 26.3 years old. That workforce is also increasingly urbanized, with 62.5% of the population currently living in urban areas.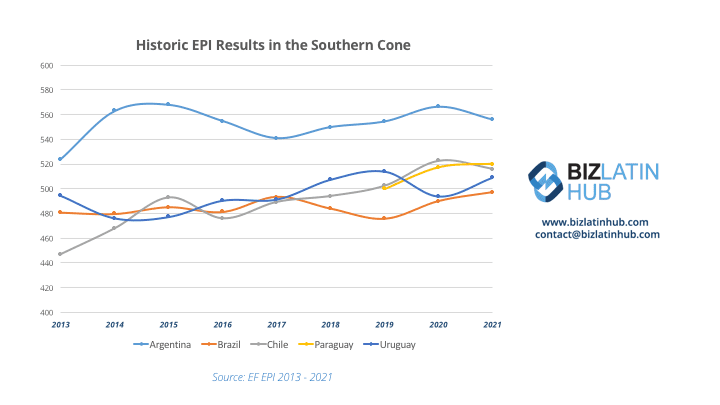 With the country registering a gross national income (GNI) of $5,140 per capita in 2020, employees are available at highly competitive rates.
Moreover, Paraguay has seen English proficiency rise in recent years and is now among the top five nations in the region for English proficiency, making it all the more attractive for doing business.
2. Strong real estate returns
Paraguay boasts one of the strongest real estate sectors in the region, with returns on investment often up to 50% higher than in other markets in the region, and buy-to-let
Those strong returns are bolstered by a low-tax regime, with value-added tax (VAT) set at just 10%, offering even more reason to invest in Paraguay.
The opportunities on offer in the Paraguayan real estate market have seen it draw increasing interest from investors, with a particular influx of capital coming from neighbouring Argentina in recent years.
3. An increasingly international outlook
Once somewhat economically isolated from the world, Paraguay is adopting an increasingly international and outward-facing outlook that encourages foreign investment.

That has seen it initiate talks with Chile over what would be the country's first bilateral free trade agreement (FTA), to complement the agreements it has in place via its membership of the Southern Common Market (Mercosur), an economic association that also includes the other Southern Cone nations of Argentina, Brazil, and Uruguay.

It also saw the country adopt new transfer pricing norms in keeping with standards established by the Organisation for Economic Co-operation and Development (OECD) — an international trade organization known as the "good practice club" that Paraguay is seeking to join as a full member.
4. Streamlined residency for those who invest in Paraguay
Among the measures the country has taken to encourage more people to invest in Paraguay is to streamline the residency process.
In December 2020, then-Finance Minister Benigno Lopez announced that the country would be taking measures to slash the time taken to gain residency through investment from two years to just a few months.
That despite the fact that Paraguay already had one of the most favourable residency regimes for investors in the region.
5. Ease of doing business
Paraguay is a pro-business country that is not only highly encouraging of FDI, but also runs a regime that makes it easy to invest.

That includes no history of confiscations or sudden changes in investment rules, a robust set of employment laws, and strict protection of intellectual property, providing significant confidence to investors.
The country also boasts a company formation process with minimal red tape, a well-established industrial base for anyone seeking to enter the manufacturing sector, and a growing innovation sector.
Source: Biz Latin Hub
(Visited 261 times, 1 visits today)
Gateway to South America was established in 2006 as a single office in Buenos Aires. The company has since expanded into a vibrant regional network, servicing the Southern Cone clients in Argentina, Brazil, Chile, Paraguay, Peru and Uruguay with professional real estate marketing services. If you enjoy reading our news site please share it on your social media below.
Post available in:
English